Breeders to develop new cassava varieties in five years
3 min read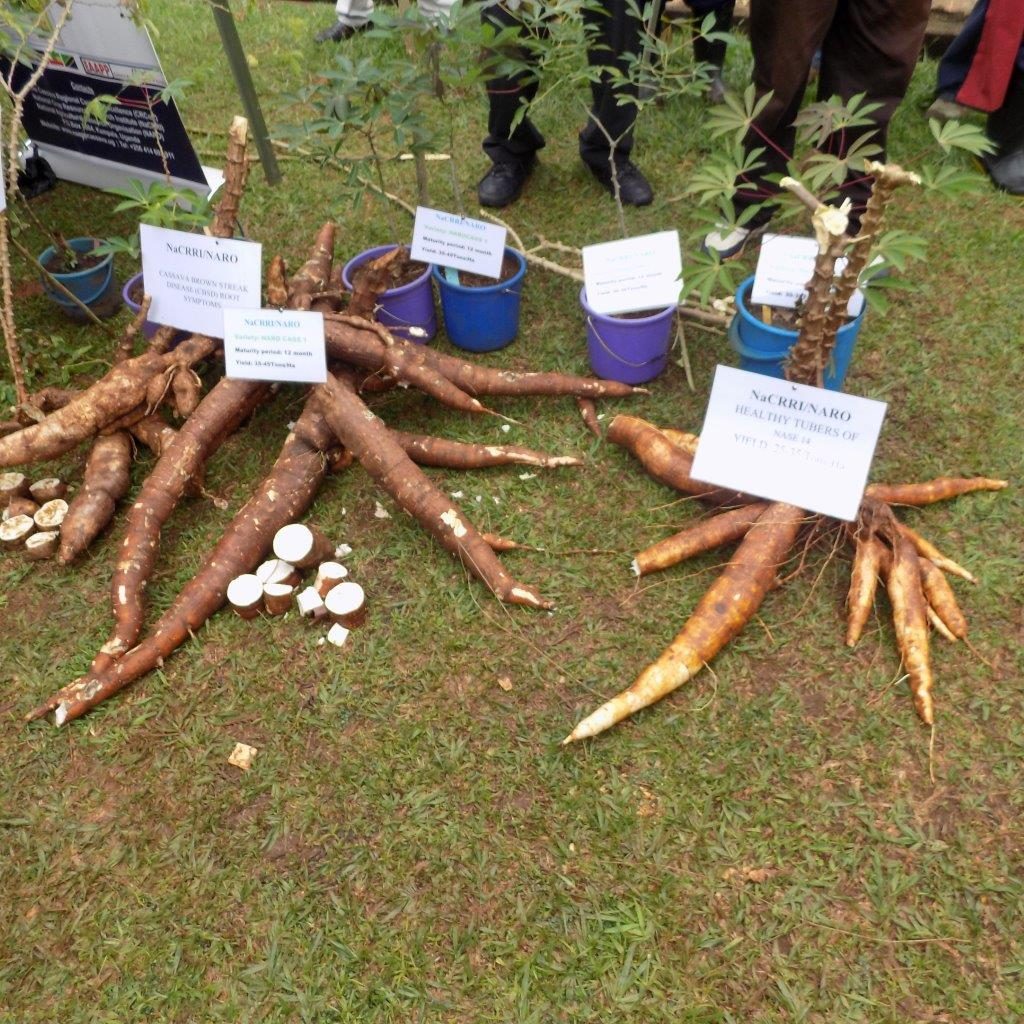 Breeders to develop new cassava varieties in five years
By Christopher Bendana
Developing a new cassava variety will soon take five years from the current ten years according to scientists at the National Agricultural Research Organization (NARO).
Dr. Titus Alicai, the head, Root Crops Programme at the National Crops Resources Research Institute (NaCRRI), the NARO's crop institute says they are using new technologies to shorten the time of developing new cassava varieties.
He said that they are also improving on the flowering process of cassava by grafting, and the use of artificial light to solve the problem of low flowering common in vegetatively propagated crops.
"This technique helps address the difficult aspect of flowering in cassava which affects the breeding process by slowing it down," he said.
He said the breeders are using smart computers incorporated with artificial intelligence features to collect and analyze data very fast.
"Everything is happening very fast," he said.
Breeders usually analyse data like disease incidence, the stability of the new variety, and distinctness of variety during their breeding program and collection of this data takes a long time.
Cassava has of recent improved its potential as a commercial crop. It has since been adopted as an ingredient in the beer industry. It is used in the Engule beer brand.
Dr. Alicai also highlighted the importance of cassava as a food crop revealing that on average each Ugandan consumes an average of 125kg annually.
Working under the NEXTGEN Cassava project, the program that runs in Uganda, Ghana, Tanzania, and Nigeria is aimed at unlocking the full potential of cassava and delivering the developed varieties to small scale farmers.
"It is the crop of the poor and we share Bill Gates vision of uplifting the people leaving on less than 2 dollars a day," said Ronnie Coffman, director International Program, Cornell University College of Agriculture and Life Sciences (IP-CALS) on a recent visit to Uganda.
He said they had chosen to collaborate NARO because of the strength in agricultural research not only on cassava but also on other crops like bananas.
Alicai said that they were also working on incorporating traits of softness in the cassava. He said all the new varieties are bred to offer resistance to the two virulent diseases that include Cassava Mosaic Diseases and Cassava Brown Streak Disease.
Other partners in the NEXTGEN program include the International Institute of Tropical Agriculture, the National Root Crops Research Institute in Nigeria, and the West Africa Centre for Crop Improvement in Ghana. Others are Makerere University, and the Tanzania Agricultural Research Institute, Embrapa in Brazil, the International Center for Tropical Agriculture in Colombia and the University of Hawaii.
Francis Alacho, the Country Manager, Cassava: Adding Cassava for Africa (CAVA) at the African Innovation Institute, an organization engaged in the promotion of cassava growing for commercial use said having new varieties faster is important as new varieties are usually high yielding, and more resistant to pests and diseases.
Unlike coffee and maize that are heavy water consumers,  cassava can survive with minimal water access. It can easily grow in marginal soils giving people living in areas like Karamoja and Nakasongola a lifeline.